June 2019
| Mon | Tue | Wed | Thu | Fri | Sat | Sun |
| --- | --- | --- | --- | --- | --- | --- |
| | | | | | 1 | 2 |
| 3 | 4 | 5 | 6 | 7 | 8 | 9 |
| 10 | 11 | 12 | 13 | 14 | 15 | 16 |
| 17 | 18 | 19 | 20 | 21 | 22 | 23 |
| 24 | 25 | 26 | 27 | 28 | 29 | 30 |
Calendar


Yu-Gi-Oh! Arc-V is the fourth main anime and manga spin-off of the Yu-Gi-Oh series the series will feature new protagonist Yūya Sakaki a second-year middle school student at the Leo Dueling School, the largest of its kind. The Leon Corporation, headed by Reiji Akaba, develops a new dueling system known as Action Duels, in which monsters are given mass and can interact with environments, that quickly reach worldwide popularity with Pro Duels. Yūya's life changes one day when he faces off in an exhibition match with the current Pro Duel champion.The anime series will be produced by Nihon Ad Systems and Studio Gallop.It is scheduled to begin airing on TV Tokyo in April 2014.
Yu-Gi-Oh! Arc-V will air starting Sunday April 6th, 2014 at 5:30 Japanese Standard Time.
Info on characters and cast:

Sakaki, Yuya

Age 14

An Eighth Grader who loves to entertain others. He's a bit short, but he has a resiliant and spry body, and he's honing his skill in Action Duel at Yuushoujyuku.

His dream is to become an "Entertainment Duelist" who makes everyone smile, just like his father!

The sparkling pendant he wears is his lucky charm.

Akaba Reiji

Age 16

The President of "Leo Corporation", a major company in the city of Maiami.

He possesses a genius-level intellect, and a Super-Elite Duelist to boot. He is the youngest Duelist in history to be certified to Duel in the Professional Circuit, at age 15.

Hiiragi Yuzu

Age 14

Yuya's childhood friend who often cheers him on and encourages him. She's a powerful and level-headed girl. The school of Yuushoujyuku is run by her father, where she and Yuya study Action Dueling. Her Special Skill is being a Tsukkomi with a Harisen. (She's essentially the straight man in Japanese comedy who hits the comedic idiot with a paper fan.)

Staff

Original Idea: Takahashi, Kazuki, Studio Dice (Weekly Shonen Jump)

Character Designer: Miyoshi, Naohito

Director: Ono, Katsumi

Series Organizer: Kamishiro, Tsutomu

Duel Organizer: Hikokubo, Masahiro

Character Design: Yokota, Akemi

Monster Design: Honda, Seiji

Concept Design: Miyazaki, Shin'ichi

Animation Director: Hara, Ken'ichi

Art Director: Takahashi, Nakamura

Color Scheme: Minowa, Ayami

Director of Photography: Akasawa Kenji

CG Produce: Nagata, Tohru

CG Direction: Tomida, Kazunori

Editing: Tomida, Kazunori

Music Director: Matsuoka Yuuki

Music: Nakagawa, Koutarou

Music Production: Marvelous AQL

Music Cooperation: TV Tokyo Music

Music Production Cooperation: Jinnan Studio

Casting Cooperation: Niinuma Megumi from Nelke Planning

Animation Producer: Sugimura, Jyuurou & Nishiyama, Masano

Producer: Sasaki Ryou from TV Tokyo & Nishiyama, Masanao

General Producer: Sanematsu, Teruaki

Animation Studio: Gallop

Production: TV Tokyo / NAS

■ Cast

Sakaki Yuya: Ono, Kenshou

Akaba, Reiji: Hosoya, Yoshimasa

Hiiragi Yuzu: Inamura, Yuuna

Gongenzaka Shou: Oobayashi, Youhei

Hiiragi, Shuuzou: Itakura, Mitsutaka

Sakaki Youko: Yuui Ryouko

Sakaki Yuushou: Hiroki, Touchi

Narration: Yamaji, Kazuhiro
sources
http://www.duelacademy.net/t35701-anime-news-official-japanese-arc-v-website-initial-info
http://en.wikipedia.org/wiki/Yu-Gi-Oh!_Arc-V
http://www.tv-tokyo.co.jp/anime/yugioh-arcv/news/
Story
Yu-Gi-Oh! Arc-V centers around Yuya Sakaki, as he tries to escape from reality by smiling. But one of his Duel leads him to make a determination to face the difficulties so that he gets the power of infinite possibilities. The show's main theme is "Take a step forward with courage!!"
Yuya is a student at a preparatory school, where he is learning to be an "entertainment Duelist", a type of professional Duelist.
The story will take place in Maiami City located on the japan's coast. Leo Corporation is run by Reiji Akaba it's president. Thanks to the spread of the company's "Solid Vision with mass," "Action Duels" are born in Maiami City and they have reached worldwide popularity. Children look up to the star-level Pro Duelists, and they learn Summoning and Duel styles at various large and small cram schools, including the Yushu Juku that Yuya attends and the largest such school, Leo Duel School (LDS).
And one day, Yuya ends up fighting with the current champion of Pro Duel in an exhibition match.
This is the logo for Yu-Gi-Oh! Arc-V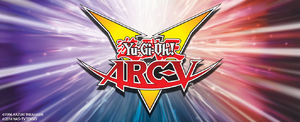 ---
Permissions in this forum:
You
cannot
reply to topics in this forum